Our dealer management system – Autopromotor – has been in action for over 10 years having been built when Spidersnet was bought by parent company Friday Media Group over a decade ago. The central hub of our dealers' websites, this system allows customers to upload adverts to their site, broadcast their vehicles around the web, and manage enquiries with ease. As you're most likely aware, we've built a brand new, slick, cutting-edge version of Autopromotor that will be released very soon.
This week I sat down with Adam Cox, our Senior Product Manager here at Spidersnet, to discuss the new version of Autopromotor. Adam has a degree in Digital Media and has been at Friday Media Group for seven years, working for Spidersnet for the last three. He has been instrumental in this huge project, having worked on it from the very beginning.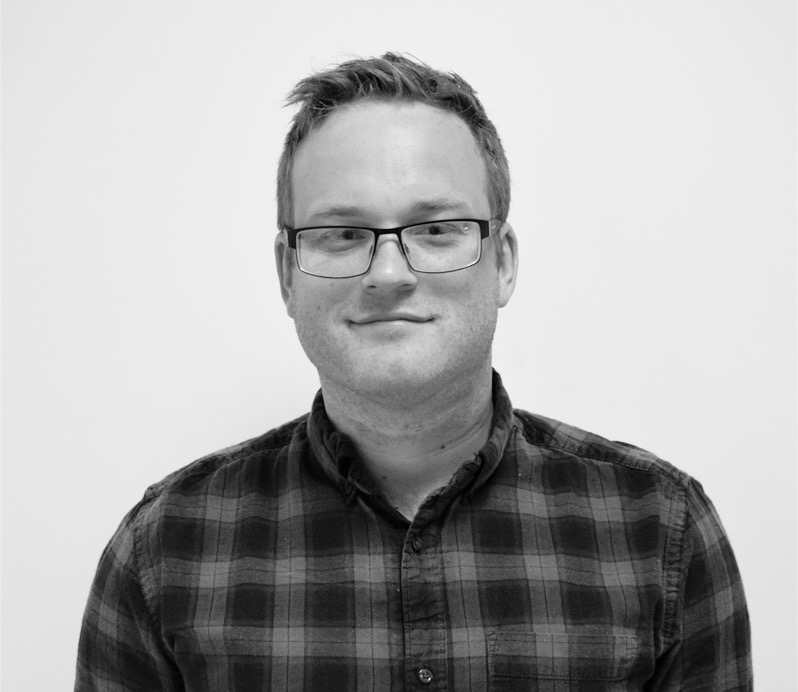 I asked Adam to sum up his role at Spidersnet. He said: "My job is to make sure that we're developing the Spidersnet product, or suite of products in our case, in-line with what our customers, our prospects and the industry demand."
Adam works across the business, with various departments including the Support and Sales teams and he also speaks to many customers. He said: "I work directly with customers often and go on regular visits to talk through new features with them. This enables me to get insight into how we could better evolve our products to fit their needs."
Speaking about the current version of Autopromotor, Adam said: "At this point in time, the current version is still a very functionable tool. We've got some really powerful features in there such as VRM lookup, and stock broadcasting. However, we've had the current system for the past 10 years and over time it's been built on a lot.
"It's always been a stable platform, but as technology has evolved and people have become accustomed to using online applications a lot more, it hasn't really kept up with the times from a usability perspective. It's a very feature-rich platform that works nicely, but if you were to look at it with fresh eyes, with no previous affiliation, then it would immediately look very outdated to you."
We want the new system to make it nice and simple for a dealer to sit down with their laptop or mobile and add stock to their site as quickly as possible.
Adam Cox – Spidersnet
Here at Spidersnet part of our core offering is to make running and managing a business as easy as possible for dealers. Adam said: "We understand that we have a large number of dealers who have been with Spidersnet for the entire time that the existing system has been in place, and know it like the back of their hand. But it's not that easy for new customers.
"For new customers, because the current Autopromotor looks outdated, it's very much an alien system, with a lot of options and no clear narrative. So in-line with lots of the work we've been doing with the front of our websites and the other products we have within Spidersnet, we wanted to simplify Autopromotor.
"We want the new system to make it nice and simple for a dealer to sit down with their laptop or mobile and add stock to their site as quickly as possible."
So what will the new system mean for dealers? "The most obvious benefit that our dealers are going to see straight away," continued Adam, "is that the new Autopromotor will be fully responsive. This means it will work very nicely on mobile and tablet devices, which the current system does not."
This mobile responsiveness will mean that dealers will be able to use the new version on the go on their mobile phones, meaning they're not restricted to being chained to a computer to update their stock. A dealer could photograph a vehicle on the forecourt and upload it to their website right there and then using their smartphone.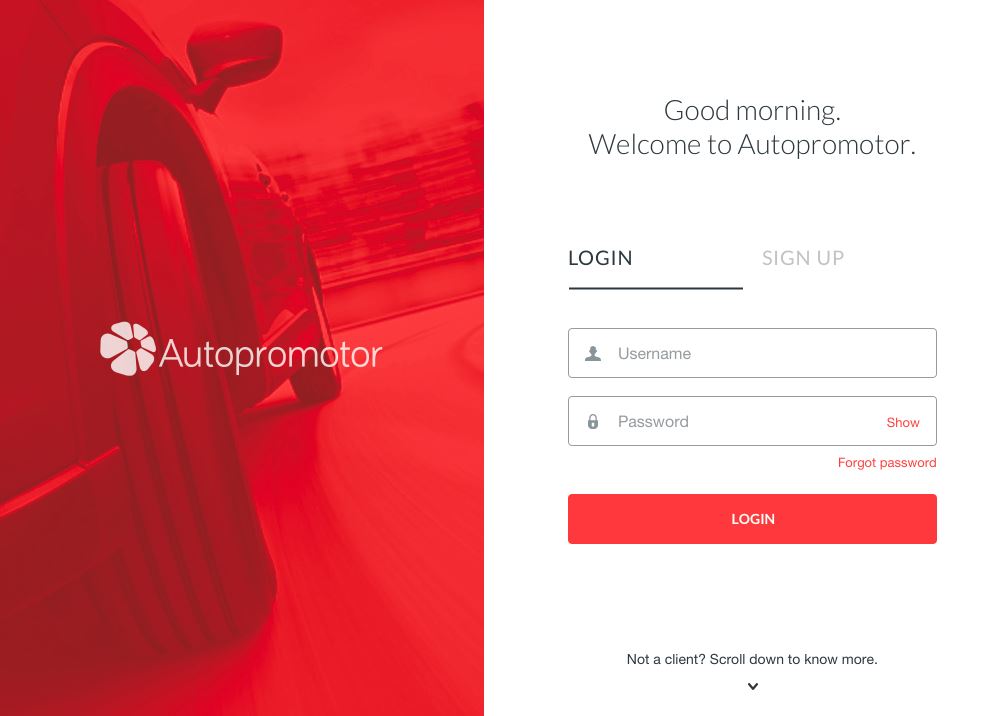 Will the new version bring any new features?
But what about new features? Adam said that initially, at the launch phase, they are focussing mainly on replicating the existing functionality. This means that placing adverts, browsing stock, and broadcasting are all a priority. However, there will be some new features added to the new version when it goes live.
Speaking on these new additions, Adam said: "There will be a few new features added when we go live. For example, we have a reporting section, which gives a breakdown of dealers' website statistics, stock information and sales data."
Also highly anticipated is the addition of 360 images. Speaking on this exciting addition to Autopromotor, Adam said: "This new feature will allow dealers to add interactive, 360 images of their vehicle interiors to their adverts. This will allow users on their site to see the entire interior of the car through an interactive 360 sphere, without having to click through 10 or 12 images.
"It's something we've been aware of for quite a while. There doesn't seem to be many dealers utilising this at the moment, but we've seen the price of a 360 camera coming down rapidly. They've gone from £300/£400 pounds a few years ago for a low-end model, to being a lot more affordable now. We picked up a top quality camera this year for £100 and it produces 4K, high resolution, crisp images.
"On the new Autopromotor you'll be able to upload 360 images with ease along with standard images, videos and documents. Initially, these 360 images will be used on dealers' websites only, however, down the line we'll be looking at sending them on to broadcasting partners that support 360 images. There aren't many that we're aware of at the moment, but it's something we expect to see a lot more of in the future."
In the future you may be able to log in, select 'Email Marketing', create a templated marketing email, and send it out to a database of customers.
Adam Cox – Spidersnet
Another improvement to the new system will be the increased freedom that dealers will have when it comes to their own websites. "We're also making it a lot easier for customers to change some of the basic information on their sites and in their accounts," continued Adam. "For example, currently dealers have to contact us if they wish to change certain details such as the opening hours and the business phone number. Soon, when the new Autopromotor is launched, they'll be able to do this themselves, giving them more control.
"Likewise, within a dealership's Autopromotor account, dealers can have multiple users set up. Currently, they have to get in touch with us to add new users, but soon, when the new version is out, they'll be able to set up new users themselves with ease. They can assign these users different roles offering varying levels of access."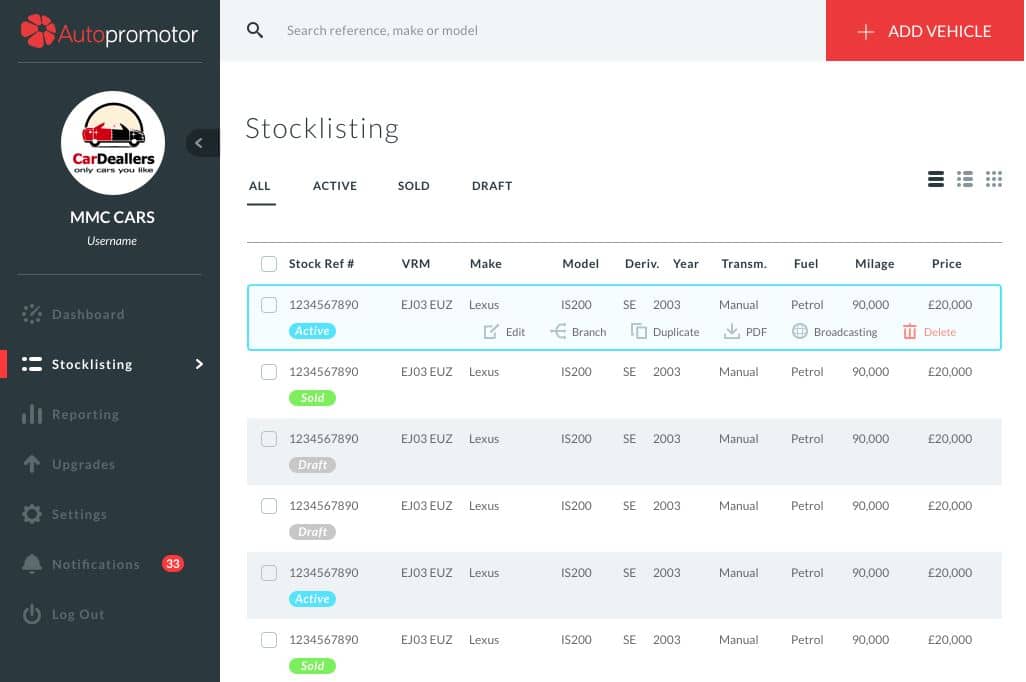 Will there be more new additions to come in the future?
Alongside the launch of the new Autopromotor, we will also be announcing our public roadmap for the next six to 12 months highlighting further additions and developments. Speaking on this, Adam said: "We very much see the new Autopromotor as the foundations of the Spidersnet product moving forward. New features and products that we build will always be developed with the new version in mind. And there will be plenty more new additions to come.
It won't be the case that one day we just switch the old version off and the new version on. It's going to be a lot more gradual than that.
Adam Cox – Spidersnet
"We know there is a strong requirement for invoicing and accounting options for example, and we're currently investigating this, so we may see that added into Autopromotor in the near future.
"We're also looking at a lot more self-service options from a marketing perspective. So, for example, currently it's quite tricky for dealers to run an email marketing campaign as they'd have to use a third party provider. However, down the line this may well be something they could do within Autopromotor. We want to bring these marketing tools within the system, so in the future you may be able to log in, select 'Email Marketing', create a templated marketing email, and send it out to a database of customers.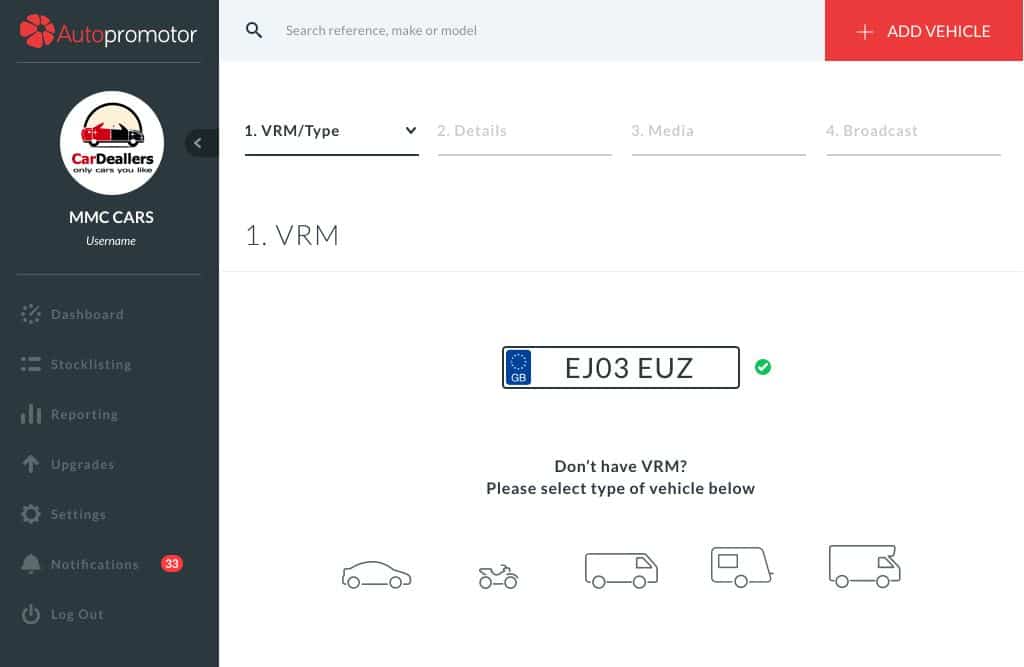 "We'll try to put as many business-critical features and tools all in one place either by building them ourselves, or integrating third party services into Autopromotor, so dealers can manage their business all from one place."
Working closely with some dealers
Adam has spent a fair amount of time sat down with dealers, talking through the existing system and watching them upload adverts and make changes to their sites. He's been working with them to really identify what elements of the existing system aren't needed anymore. He said: "There are over 300/400 options on the 'place-an-ad page' for example, and a lot of those just aren't necessary. So as well as the technical improvements to the platform, we are also looking at the fields in order to simplify and streamline it.
"The product is nearly ready. We've had some very positive feedback from the few dealers we've shown the new version to, who have been aware of the project and our intentions to rebuild the system for a long time. They've been able to give their thoughts on improvements, and offer feedback throughout the process. Generally, what they've had to say has been incredibly positive."
What about dealers who are used to the old system?
Here at Spidersnet we're well aware that some of our customers will have questions regarding how we will be introducing the new system. But Adam said that there was no reason to worry. "We're aware that there are a number of long-standing customers who are very attached to the current system," continued Adam. "So it won't be the case that one day we just switch the old version off and the new version on. It's going to be a lot more gradual than that.
"We're going to have an overlapping period, giving us the chance to onboard our current customers onto the new version in batches. The first batch of 10 to 15 customers will move over onto the new system and be carefully onboarded, receiving plenty of support to ensure they're fully trained up. We will then review this process and work out how quickly we'll roll it out to other customers.
"We'll be launching the new Autopromotor with the ability for customers to fall back onto the old system for a period of time. So whilst they're getting to grips with the new system, if they want to revert back to the old one to make life easier, they'll be able to. This means that dealers will be able to learn about the new Autopromotor at their own pace."
The team here at Spidersnet will also be putting together a wide range of video and written guides to ensure that our dealers are as equipped as possible when it comes to using the new Autopromotor. On top of this, our Support Team will also be on hand to offer assistance and answer any questions they may have.
"Then," continued Adam, "at some point in the future, when we're fully confident that all of our dealers are 100% comfortable with the new system, we'll look to switch the old one off."