Back to Services
Let us help you grow your business
Whether it's targeting new customers via Facebook or Google ads, improving your rankings within the major search engines or having a complete overhaul of your brand, we have a team of experts that can support all of your marketing needs.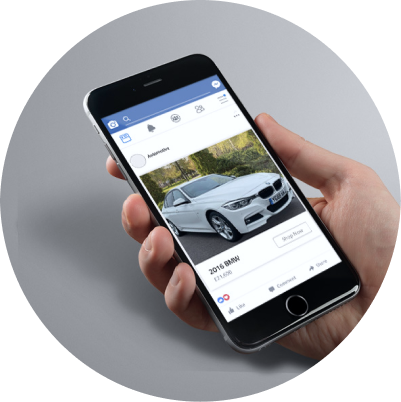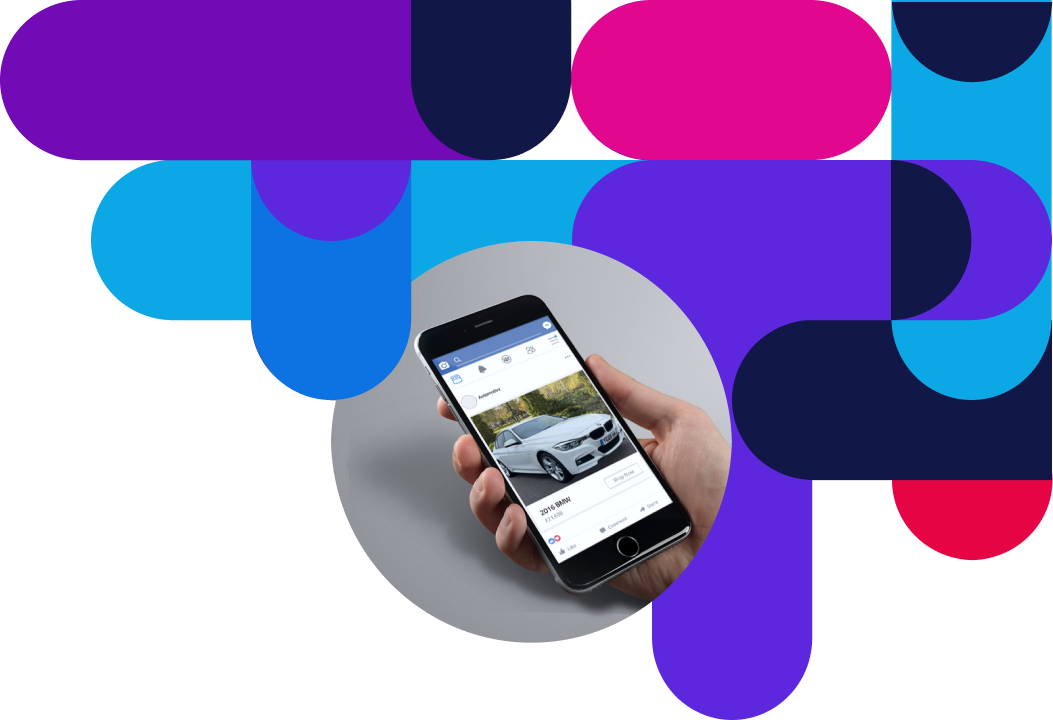 Search Engine Optimisation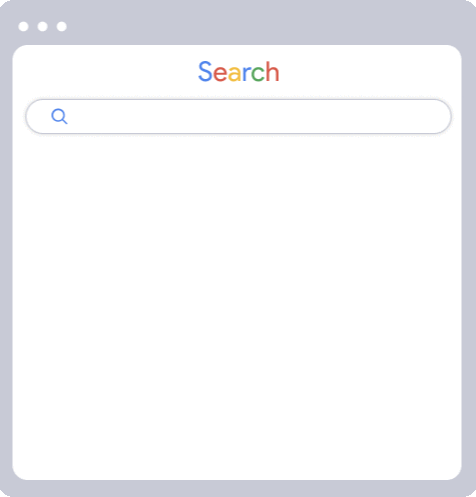 All of our sites are optimised for Google as standard, however, we also offer a highly effective additional monthly SEO service for dealers looking to increase their search engine performance even further. Our team of experts will work closely with you, conduct the necessary research and then go the extra mile to increase your brand awareness, website traffic and enquiries.
HIDE ALL
What is Search Engine Optimisation?
Search Engine Optimisation (SEO) is the practice of optimising a website so that it appears as close to the top of the search engine as possible. The listings that appear higher on search engine results pages receive more traffic. The better optimised your website is, the higher it will rank in search engines and the more website traffic you will receive.
How does it work?
Search engines have 'crawlers' that follow website links to explore the internet, gathering as much information as possible. The information they find, such as the details about the products and services advertised on your website, is then 'indexed'. Your website is then matched up with search terms that potential customers are typing into search engines, such as 'prestige car dealership'. 
SEO experts improve the ability of a website to appear higher for relevant search terms by focusing on a wide range of tasks. These range from improving or expanding the written content on a website to ensuring that search engines can crawl your website efficiently.
How will it benefit me?
Google and other search engines dominate the web. A huge 93% of online experiences begin with a search engine and what's more, 80% of automotive purchases start with Google. 
All Spidersnet websites come optimised by our team of experts, ensuring they have an excellent foundation for SEO. However, search engines are updated all the time and an ongoing focus on SEO will take your dealership the extra mile.
Our SEO team can identify the search terms that are most valuable to your business and optimise your website with the goal of appearing higher for these terms on search engine results pages. Every SEO package is completely bespoke, built around the needs of your business. This means we can help more of the people looking for the services you offer, find your website. It might also mean that you can begin to spend less on other advertising.
Pay Per Click Advertising
PPC advertising is a cost-effective way to drive traffic to your website, you'll only pay for potential customers who reach your website! Utilise the expertise of our in-house PPC team who can manage your budget to its maximum potential – driving you the most amount of leads for the least amount of money. With monthly reports and a dedicated account manager, you can always be confident in knowing how your campaign is performing and what it has delivered.
HIDE ALL
What is PPC?
PPC is a marketing channel which uses adverts in order to drive customers to an online destination. It stands for 'pay per click', as you only pay when someone clicks on your ad.
The ads appear on search engine results pages or on other websites. Google has the biggest and most popular PPC platform, Google Ads, which reaches more than 90% of people using the internet. PPC is highly targeted, as you can choose the specific search terms for which your ads appear. 
Have a read of our beginner's guide to PPC for more information.
How does it work?
Our PPC experts create ads and optimise them to appear on search engine results pages for keywords relevant to your business. We use Google's forecasting tool to help you decide on a monthly budget to suit your business and your current goals. We then use various strategies to ensure that your monthly budget is used efficiently, targeting the search terms most valuable to you and getting your business in front of more potential customers. 
You will receive a report at the end of each month detailing how many clicks your ads received and how many leads they generated. 
How will it benefit me?
PPC allows dealerships to appear high on search engine results pages for highly targeted search terms relevant to your business. This enables you to get your website in front of people specifically looking for your services and the 'pay per click' model means you only pay for those genuinely interested. 
PPC is a great way to generate additional website traffic and leads immediately, ads can be created and put in front of potential customers very quickly. 
PPC also offers a great deal in terms of flexibility. We know that business isn't always straightforward and those in the automotive industry need to be ready to react to change quickly. We can update your ads, budget or your advertising strategy straight away to align with any changes to your business goals.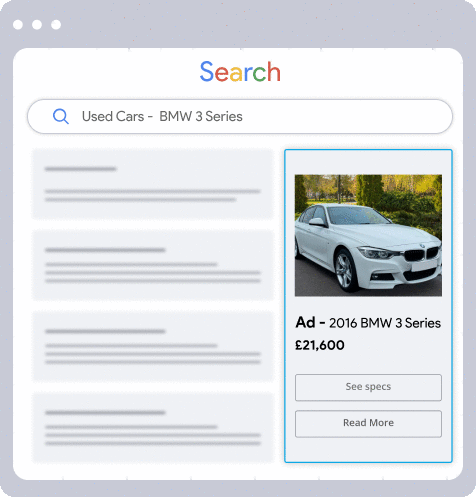 Facebook Automotive Inventory Ads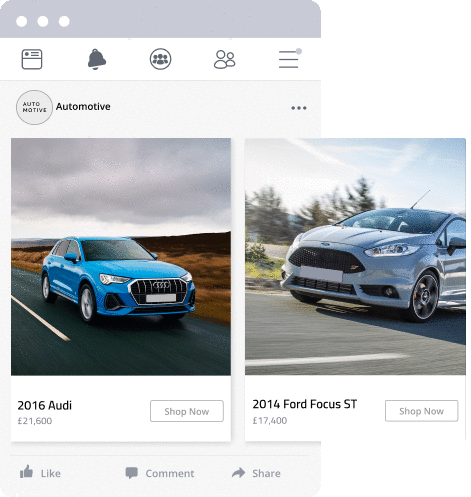 Automotive Inventory Ads are optimised to reach and re-target people who are in the market for buying a vehicle. They automatically promote your vehicles to buyers who have expressed interest on your website, Facebook listings or elsewhere on the internet. These adverts are highly targeted and cost effective meaning that they are an efficient way to advertise to ensure maximum return.
HIDE ALL
What are Facebook Automotive Inventory Ads?
Automotive Inventory Ads is a solution from Facebook that allows dealerships to upload their entire inventory of vehicles and show them to a targeted audience. The ads appear in various places and formats across the Facebook and Instagram platforms to people who have shown an interest in your products. This allows you to tap into an audience of millions and engage with the right people at the right time.
How does it work?
Our team of online advertising experts will set everything up for you. We will link your catalogue of vehicles to your Facebook Business page, create your ads and select the audience most relevant to your business.
We will also set up comprehensive tracking which will help you understand the actions that people are taking on your website and how many leads your ads are generating. We will then review your ads regularly, optimising them based on data from our detailed tracking and getting your vehicles in front of more customers. We will deliver a monthly report highlighting the website traffic and leads generated by your ads. 
How will it benefit me?
Facebook Automotive Inventory Ads have been created specifically for dealerships looking for an efficient way to showcase their catalogue of vehicles to a relevant audience. The ads allow us to show relevant details such as the make, model and year of each vehicle and then direct potential customers straight to your website. 
Using one of the world's most powerful social media platforms, they offer a quick and cost-effective way to generate website traffic from people already interested in the products you sell. The ads automatically show the vehicles in your inventory, allowing us to spend more time optimising your ads, building awareness of your brand and generating more leads. 
Take advantage of our professional copywriting services, written by experienced content writers. They will work with you to create copy that is engaging, informative and promotes your business in the best possible light. Having rich content across your site will not only build confidence and trust with your customers but will also bring about SEO benefits and improve your standing in search engine rankings.
HIDE ALL
What is it?
All websites will benefit from informative text being available on as many pages as possible. Therefore the more information you can provide your customers with, the better your website will perform. 
Did you know that informative, well-written and unique copy can also help your SEO? Written content can play a big role in search engine optimisation and our copywriting experts write with this in mind.
How does it work?
We have copywriting packages available to suit all dealers, whether its just some well written homepage text you need or your website full of rich content, we have a package available to fit. 
We'll start by asking you a series of questions to build up a picture of your business and services that you offer. We'll then create the copy for you – once we hand it over, it's yours forever to use, as and how you wish to!
How will it benefit me?
With so much competition online, it's crucial that your website says everything you need it to in the most engaging and concise way possible.
Improving the copy on your website can help you rank higher on search engine results pages for more searches relevant to your business. By improving this, you will not only be able to engage better with the people already visiting your website but you're likely to attract more website visitors in the first place. 
Professional website copy that compliments your brand will help you connect with potential customers straight away. Website visitors make judgements very quickly so it's essential that you capture their attention almost immediately.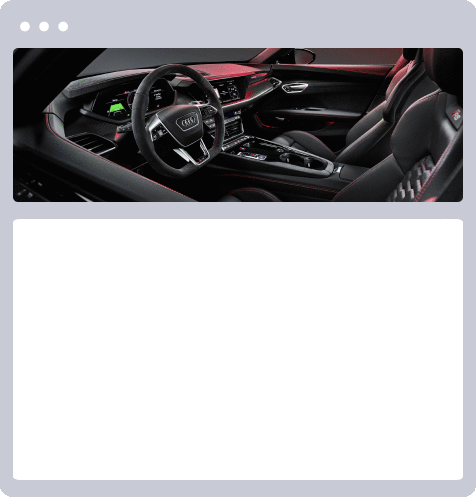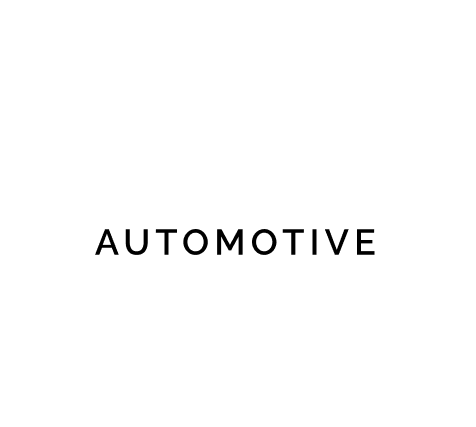 A top quality, recognisable company logo is essential to effectively represent your business and to separate you from the competition. It creates brand recognition and builds confidence with customers. Our highly qualified team can design your business a professional logo – whether you're in need of a simple refresh or something brand new! We will provide you with a range of designs at an affordable price.
HIDE ALL
What is it?
Your logo design identifies your brand, it's a visual representation of your business. A top quality, recognisable company logo is essential for all businesses to create the right first impression. 
How does it work?
Whether you just want a simple 'refresh' of your current logo, to bring it up to date, or you're keen on getting a completely new logo for use across all of your platforms, we can help.
We'll work with you to establish your requirements, outlining what you'd like. 
We'll then create a selection of designs and send them over for you to provide feedback on.
We'll make any necessary changes and send back your revised design for approval.
Once you are satisfied, we will send your customised logo in different file formats for you to use as you require!
How will it benefit me?
A great logo design will grab attention and make a strong first impression. Good design not only looks professional on the surface, but builds trust and confidence for your business.
Let us help you create a new logo that sets you apart from the competition.
We will get back to you...