Back to Services
Additional Website Features
So much more than just a website
We love great website design but we like to ensure our websites are also packed with features to ensure that you get the most from them. We have a whole host of enhancements that can be seamlessly integrated into your website, all designed to increase engagement to turn visitors into buyers!
We also have products to save you time by streamlining your business operations.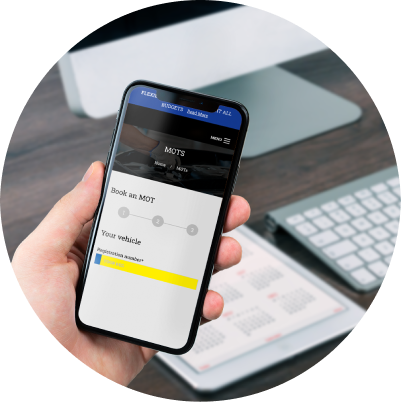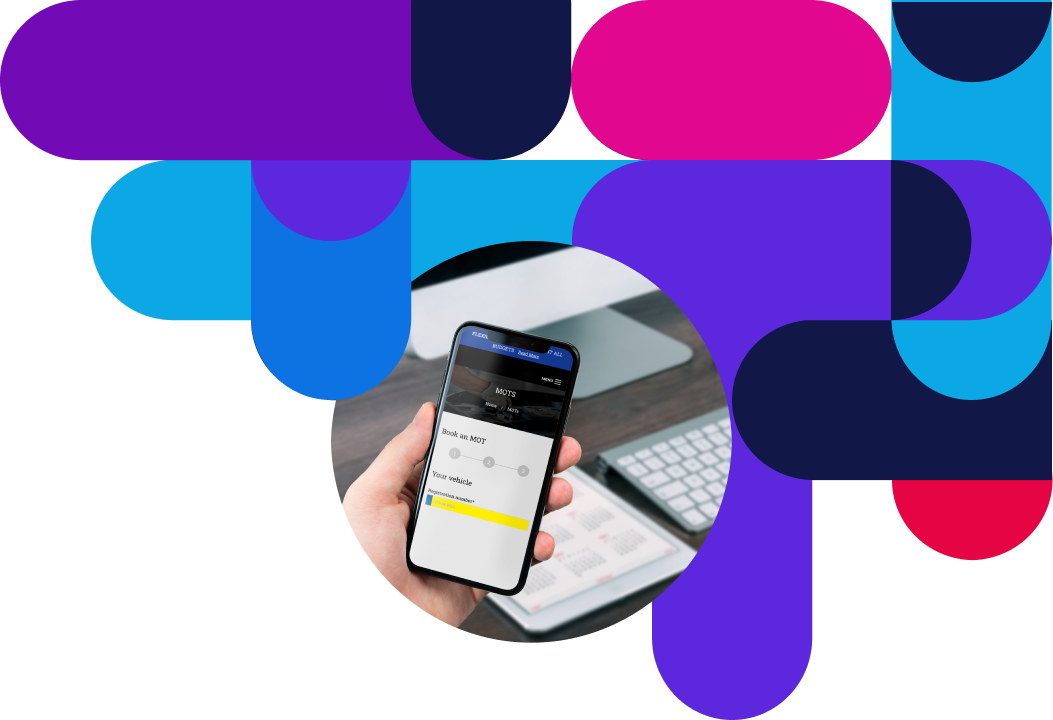 Automated Video Creator
Bring your cars to life!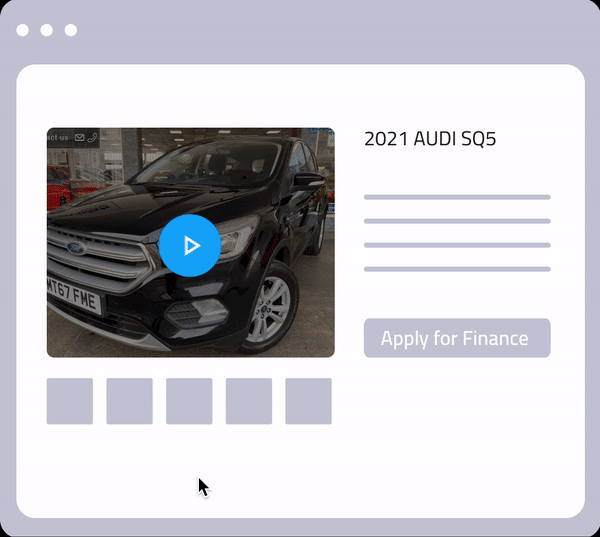 Using our Automated Video integration you can have a unique video of every vehicle without having to do a thing! Every video connects the best selling points of each car with images, your branding and more to make your vehicles more attractive to buyers enabling you to sell more cars and faster!
HIDE ALL
What is it?
The Automated Video Creator will create engaging videos of each and every one of your cars on your website using your images and spec to bring your cars to life.
How does it work?
Using unique software, the video creator will use your branding, vehicle images and the car's best features to create a personalised video of each vehicle which will display on your website. 
Each time you add or update a vehicle within the dealer management system, a new video will be automatically generated.
How will this benefit me?
The average viewer remembers 95% of a video message compared to 10% of static images!  
Every vehicle on your website will have a bespoke video without you having to lift a finger, saving you valuable time and effort. Also bringing the additional benefits of:
Increased visitors to your website

Encourages buyers to stay longer on site

Leads to higher conversion rates

Promotes a stronger brand

Improves SEO rankings
AutoExchange
Increase stock levels with our part exchange tool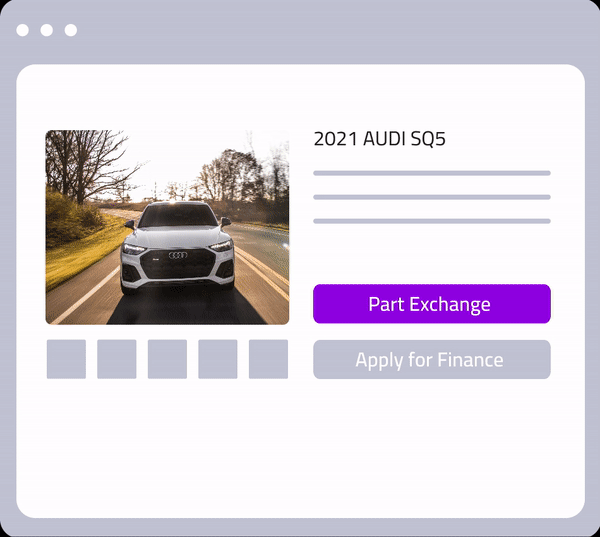 Many customers will opt for the ease of part exchanging their vehicle. Our tool allows your customers to submit their vehicle for a part-exchange in a matter of minutes and gives you the freedom to provide your own valuation. Delivering you better qualified buyers and a more profitable way of buying stock.
HIDE ALL
What is it?
The part-exchange feature can be added to all vehicle pages onsite and allows your customers to submit their vehicle for a part-exchange against a vehicle they are interested in, in a matter of minutes. 
How does it work?
Simply by entering their car's registration number, vehicle details are instantly populated. They then fill in a brief condition report with the option to attach a photo. Leaving you to simply get back to the customer with a price for their car that suits you.
How will this benefit me?
Having the part-exchange feature on your site encourages increased user engagement, generates warm leads, makes the buying process even simpler for your customers and opens up opportunities to acquire new stock. 
Finance Integration
Making finance easy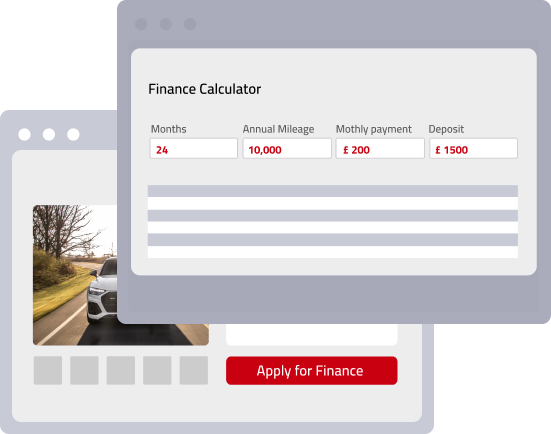 More buyers than ever before are purchasing vehicles on finance. Around 80% of consumers are utilising finance options when buying new and used vehicles. Integrating a finance calculator into your website through one of our partners couldn't be simpler – giving your buyers access to customise their options based on their budget.
HIDE ALL
What is it?
A finance calculator on your website allows you to present your customers with the finance options available to them from the lenders you use.  It is a simple and effective way to engage a potential buyer who is interested in your vehicle.
How does it work?
Buyers can configure monthly payments, initial deposit and length of term to find a payment plan that best suits their budget and needs. 
How will this benefit me?
By allowing a customer to be in control of building their own payment plan you're showing them how a vehicle can be affordable.  It will also increase the time they spend interacting with your business online.
Autopromotor Service
Qualified bookings directly through your website
Do you offer servicing as well as car sales? Add our servicing module to your website and take bookings 24/7. Full flexibility to customise your services, pricing, offers and availability through our easy-to-use dealer management system. Spend less time dealing with phone enquiries and more time in the workshop.
HIDE ALL
What is it?
Many of our customers also offer car services as well as car sales. 'Service' enables you to take service bookings directly via your website. 
How does it work?
'Service' will allow your customers, and users of your website, to customise, select and book garage services from your dealership. Their registration number is used to look up the vehicle details, which includes information on when their MOT is due.  Customers can then select a preferred date for the work needed and get an accurate price and an overview of what work is included.   
How will this benefit me?
'Service' gives you the ability to take service bookings 24/7 – leaving you more time in the workshop and less time on the phone and gives your customers the flexibility to book their service requirements at a time that suits them.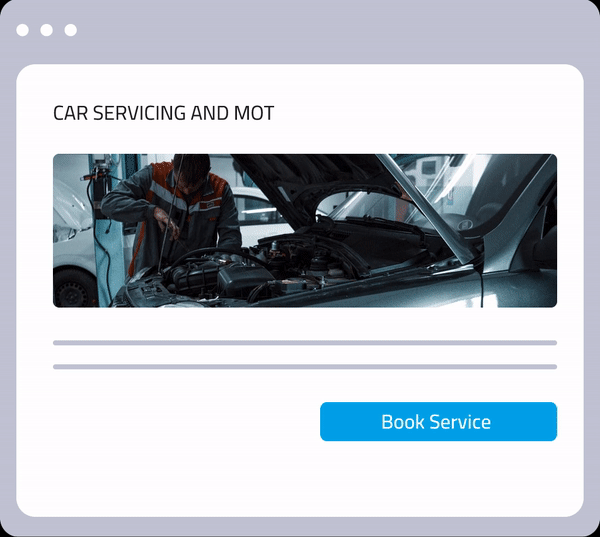 Live Chat
Connect with your customers instantly and with ease!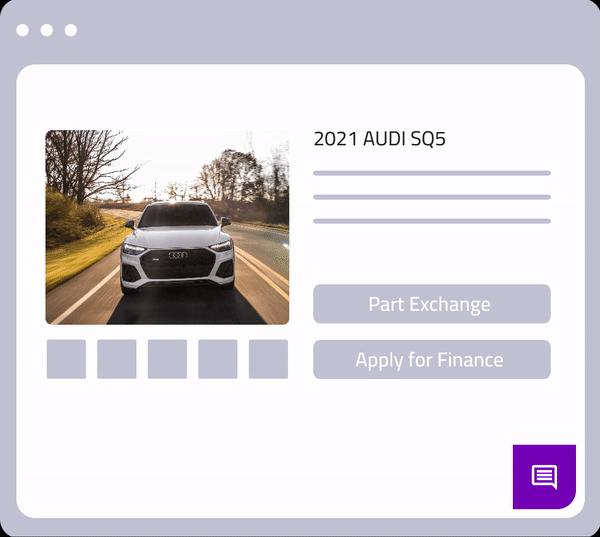 Make it easy for your users to interact with you using one of our live chat solutions. We have options available for whatever suits you and your business. Live chat is a fast, simple and efficient way of connecting with your website visitors who are viewing your stock. Utilising this service enables you to provide immediate answers to customer questions improving the overall experience for a buyer.
HIDE ALL
What is it?
Live chat is a form of online communication that enables you and your website visitors to chat in real-time – connecting you instantly. It is a great alternative to phone calls or emails, with 79% of customers saying that they prefer web chat to any other contact method.
How does it work?
We can seamlessly integrate live chat into your website through one of our partners.
Our live chat integration sits as a small icon in the bottom right hand corner of your website.  It allows you to provide your  customers with immediate answers to their questions, which in turn increases their overall satisfaction level and positive experience with your brand. You can also greet the customer online, help them with their decision making, pre-qualify them before a car viewing and even start the sales process.
How will this benefit me?
Benefits include better engagement from visitors to your website and faster customer support which will build stronger relationships.  Customers will appreciate the more personal approach and will have more confidence in your business.
Running Cost Calculator
Provide your customers with more detailed information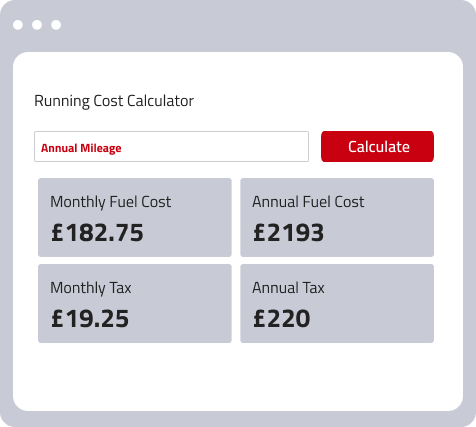 Add our running cost calculator to all of your vehicles. Buyers will be able to calculate their potential running costs for the specific vehicle that they are interested in – enabling them to make a quicker and more informed decision, in turn generating you more qualified enquiries.
HIDE ALL
What is it?
Finding out how much a car costs to run is a major influencing factor in purchasing a vehicle – that's why we've created our running cost calculator.  Implementing this calculator equips your customers with all the information they will need to run that specific vehicle both monthly and yearly.
How does it work?
Users can enter their mileage to work out exactly how much it would cost them to own one of your vehicles. Having a Running Cost Calculator on your site keeps your users on your website for longer, whilst offering them more tools with which to make an informed decision.
The running cost calculator will appear on any petrol or diesel vehicles that have MPG and tax data stored against them.
How will this benefit me?
Informed users are more likely to become customers. Our running cost calculator gives them all of the information they need.  By providing an easy way to get an estimated running cost of the vehicle, we expect this to lead to greater interaction on your website and ultimately higher conversions.
AutoReserve
Taking vehicle reservations is easy!
Our e-commerce solution allows your customers the freedom to shop online and reserve a vehicle at the click of a button! We know that buyers are often looking at your vehicles in the evening, so our reserve tool allows your website to work for you anytime of the day.
HIDE ALL
What is it?
AutoReserve enables your customers to reserve vehicles online by securing a small deposit via debit, credit card or Paypal account.
How does it work?
We'll add 'AutoReserve' to your website, which will create a link on each of your vehicles, prompting a user to 'Reserve it now'. 
Once a user reserves a vehicle, you'll receive an email confirmation with full details and the vehicle will be updated onsite to show as 'Reserved' 
All that's left to do is for you to get in contact with the buyer to arrange full payment and collection of the vehicle! 
How will this benefit me?
More and more purchases are taking place online – make sure your dealership is ready!
Having AutoReserve on site will make the sales process quicker and easier and give your customers the flexibility to buy at any time of the day or night!
Streamline your financial operations with Autopromotor Books, designed to save you time. Gain visibility on Margin Scheme and VAT calculations, generate professional invoices, create a digital Vehicle Stock Book and much more.
HIDE ALL
What is it?
Autopromotor Books helps you with your accounting, profit & VAT calculations and keeps your financial operations all in one place!
How does it work?
Autopromotor Books gives you the ability to generate sales and purchase invoices, create professional branded invoices, and gives you access to valuable financial reports. These financial records can be sent directly to your accountant, taking the time and frustration away from financial calculations.
How will this benefit me?
Autopromotor books will allow you to see financial information on all of your stock. See work carried out on a vehicle, and an accurate Stand In Value for sale. Generate professional invoices which can be printed or emailed. Autopromotor Books will also create a digital HMRC Compliant Vehicle Stock Book.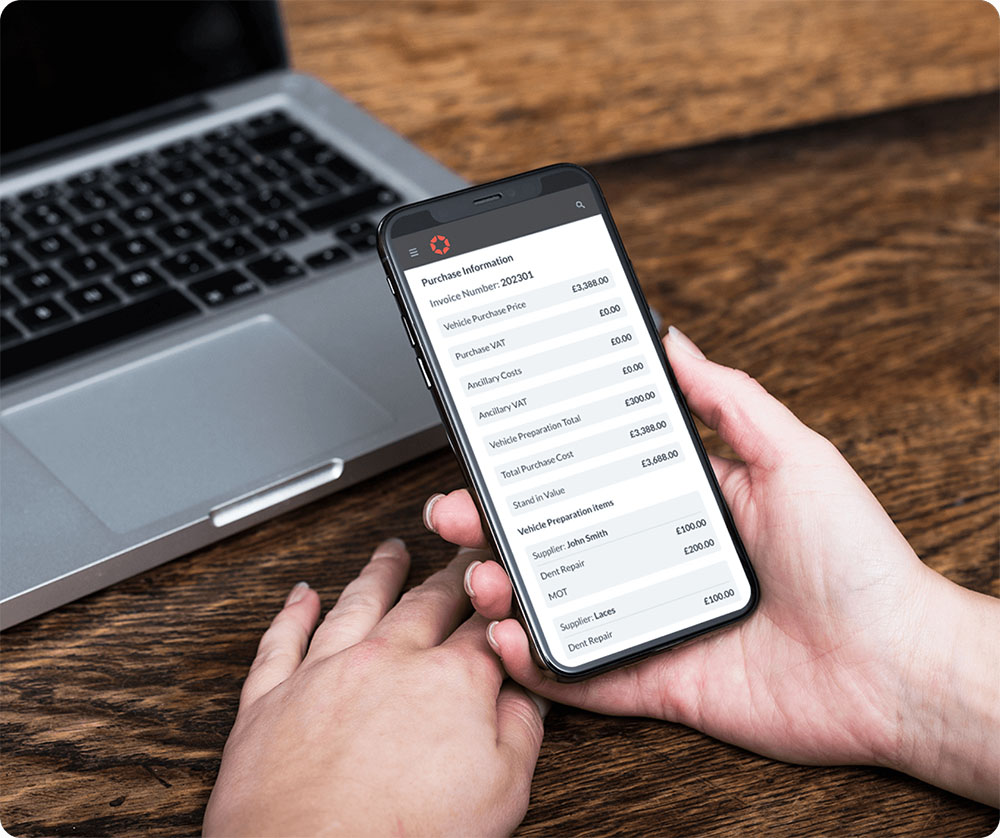 We will get back to you...