What are Facebook Automotive Inventory Ads?
Automotive Inventory ads are dynamic ads offering from Facebook which use your vehicle catalogue to create ads based on your current stock. They are non-intrusive and relevant to the users who see them and only advertise what you've currently got listed on your website. They can be set up for dealerships that specialise in various types of vehicles, from cars to motorhomes.
What are the benefits of Facebook Automotive Inventory Ads for dealers?
Always up to date:

Your ads will always be up to date, promoting vehicles currently on your website. You can upload your entire catalogue of vehicles with their specifications which will then be shown to the right people at the right time.

Targeted to people who've shown an interest in your products:

Sophisticated targeting methods allow you to target customers who've already shown an interest in the products you sell. 

Reach potential customers using different devices and platforms:

Automotive Inventory Ads can appear on different devices across a range of apps and websites. For example, they might appear in Facebook and Instagram feeds, in Stories and Reels or even on third-party apps or websites as banners or native ads. 

Choose where visitors go:

You can choose to send users who click on your ads to a website, an on-Facebook vehicle detail page or a lead submission form.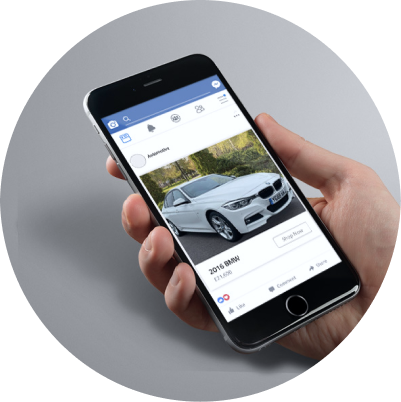 How do Facebook Automotive Inventory Ads work?
Automotive Inventory Ads use Facebook Pixel, user engagement and your vehicle catalogue to get your current stock in front of people currently in the market for a vehicle. 
There are a few things you'll need to do before you can set up your Automotive Inventory Ads and they do require a bit of technical know-how to get started, so you might need to get in touch with your web developer. The following points summarise the steps you'll need to take.
Create a catalogue: This is where all the information for the products you'll be advertising will live. Within your catalogue, you can create different categories or 'sets' to organise your products.

Install Facebook Pixel: If you're directing traffic to your website from your inventory ads, the Facebook Pixel is a tool that will help you understand what users are doing once they get there. You'll need to install a snippet of code to the <head> section of your website.

Connect your catalogue and Pixel: This will allow you to show ads to people who have previously interacted with items in your catalogue, providing an effective remarketing channel.

Create your ads: Now you're ready to create your ads. You'll be able to adjust things like the audience you want to target and make decisions about where you want your ads to appear and make basic changes to how they look. 
Set up Facebook Automotive Inventory Ads with Spidersnet
If you're a Spidersnet customer and would like to give Facebook Automotive Inventory Ads a go but aren't sure where to start, we can help. We can get you up and running and can then monitor your ads' performance, tweaking the targeting and format to get the best results, and then report back to you each month. 
To give you an idea of what we've achieved so far with this new offering from Facebook, see the case study below.
Facebook Automotive Inventory Ads Case Study
Customer background and goals: 
Our customer specialises in used motorhomes and already runs a Google Ads campaign with us. Following the success in generating leads via this campaign, they wanted to expand their PPC to include social media. 
Results:
We were able to compare the results directly with their Google Ads campaign to see where they were getting the best return on investment. 
Website traffic overall increased 324.5%

since the start of the Facebook Inventory Ads campaign when compared to the previous period.

The ads were generating a very similar number of leads as the Google Ads. On average the

cost per lead was just £1 higher than with Google Ads

. 

Each click was significantly cheaper than a click from their Google Ads

campaign, with each costing much less than £0.01. 
The huge increase in traffic provided a big boost for brand awareness, getting far more people on the website than before. Seeing the same cost per lead as with the Google Ads campaign in the first four weeks of running Automotive Inventory Ads was also a great result. Based on the figures above, the customer has continued to use both Facebook Automotive Inventory Ads and Google Ads, finding this a cost-effective way of increasing brand awareness and generating additional leads.
Are you ready to start taking advantage of Facebook Inventory Ads? Contact us today!