This month has seen us reveal a refreshing new rebrand going into the second quarter of 2022! Over the last two years, we've made huge changes in how we operate internally as well as releasing innovative new technology and services for our clients. The rebrand reflects the growth we have made. 
Focusing on the core ethos at Spidersnet, honesty and integrity, we've developed a culture in the office that follows a really simple structure; focus on our customers. With this at the forefront of everything we do, we have developed technology and innovated products that are consumer-centric at heart. 
As well as internal culture, the rebrand has come with a new website which really focuses on a simple customer journey and the ability to find the information you need quickly. The new logo is subtle enough to be easily recognisable yet engaging enough to be memorable. The new colour palette gives striking, vibrant and modern tones. The playful and lively patterns were inspired by car movement, road maps and paths.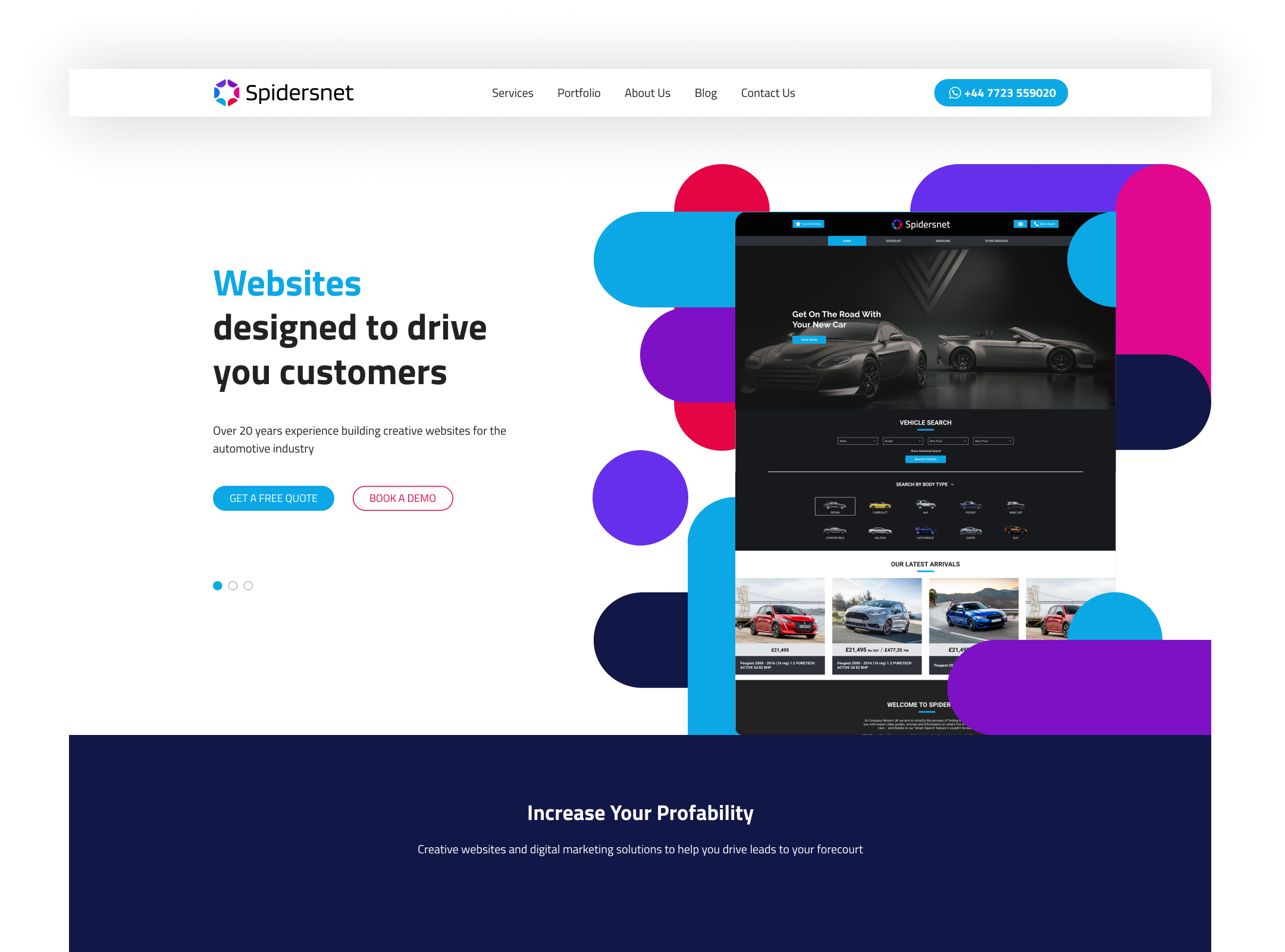 At Spidersnet we are part of the Friday Media Group and have been providing websites for the Automotive industry for over 20 years. During the rebrand, it was important to us that our ethos and culture were conveyed to our audience. We have further developed our core values since the start of our business. Especially in our commitment to provide market-leading solutions to the industry, whilst delivering the highest levels of customer service. This is supported by dedicated teams working on Product Design and Development, User Experience, and Google recognised standards of SEO. Our clients are supported by dedicated Account Managers as well as Support Teams. 
The new rebrand is not all we've been working on! Team Spidersnet have been busy developing and building innovative new products and services. 
AutoPromotor brings the latest technology to automotive clients, with a Dealer Management System to make stock management, website updates and even accounting and reporting simpler and more efficient. 
AutoPromotor Books provides an HMRC compliant stock book record, margin scheme VAT Calculations, and full visibility over purchase, sale and stock information. The ability to add options such as AutoReserve, Running Cost Calculators and even a Service Booking solution means increased opportunities to generate leads for clients. 
Whilst Autopromotor helps with processes and structure, you might ask "How can I get more leads as a dealership?" We have you covered.
We can provide marketing solutions such as PPC, SEO, Facebook Automotive Inventory Ads, Copywriting and Logo Design. Our range of services really focuses on business growth and sustainability. We really do have a solution for every type of dealership, whatever the budget or need. 
What's next for Spidersnet? We have new technology being released in 2022, again focusing on enhancing your business.