We are very proud to announce we have been 'Highly Commended' in two categories of the Car Dealer Power Awards 2022. We're delighted to be recognised for our Franchised Dealers Websites and also for Dealer Management System of the Year. 
The recognition from Car Dealer stemmed from a year of huge growth for us. Not only have we rebranded and expanded our team, but we've also developed new products, all with a focus on giving dealers more opportunities to sell cars. 
To be highly commended makes us feel extremely proud as we achieved this from the dealer's votes, so we have the confidence that our core values as a company have been achieved and our products and services speak for themselves.
'Franchised Website Provider of the Year'
We have been designing and building websites for over 25 years. During the Covid pandemic, websites became the only way dealers could sell cars, so their importance was realised. The features we can now add to a dealer website gives them a multitude of options to generate enquiries. It's really positive to see dealers focus more on their online presence. 
We enjoy working towards providing the best services within our website packages. Here's a summary of what you can expect from us:
Performance: Ensuring your website is optimised to its full potential.
Tracking: We believe in transparency, therefore we set up and share performance activity from Google Analytics 
Speed: Our new web platform is the fastest yet and will outperform many of our competitors.
Responsiveness: our responsive design enables your website to adapt across various devices, whether that's mobile, desktop or tablet.
Our websites, in conjunction with Autopromotor, are the ideal package for Franchised Dealers. Having the capability, and capacity to manage multiple franchises and locations. Our Content Management system also makes it quick and simple to make changes to your website to adhere to Dealer Standards. Adding features such as AutoReserve, and Autorpomotor Service to websites really improves the operational efficiency of busy Franchised Dealers.
Read about our Websites in Car Dealer Magazine HERE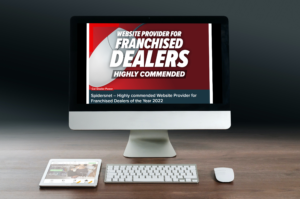 'Dealer Management System Of The Year'
Autopromotor is our DMS, designed to be at the heart of a dealer's business. It was developed by our team and continues to be industry recognised.
Autopromotor gives dealers the opportunity to manage their business from one place, and even on their phone with the standalone app. We have incorporated purchase, sale and stock information, added invoicing functionality and given our customers the ability to edit their own website. 
The most recent development within Autopromotor is the addition of Autopromotor Service. This gives dealers the ability to take Service & MOT bookings within their website, 24/7. It doesn't stop there, we have lots more planned for Autopromotor which is going to make it the only management system a dealership will need.'
Read about Autopromotor in Car Dealer Magazine HERE
What does the future hold for us? 
The simple answer to this is we will keep moving forward. Our in-house development team is always improving our existing products and working on exciting new ones. Our aim is for Autopromotor to be the only DMS a business needs. 
Our regular customer satisfaction surveys ensure we are providing the best level of service by regularly taking on board our dealers' trusted feedback from our dealers to allow us to grow and develop. 
We take pride in continually striving to make sure that our websites are quick, responsive, and visually appealing. The team we have here at Spidersnet really are the automotive experts in their field. The future looks very exciting!