How being tactical online is the best way to achieve success in car sales – And why dealers must understand the importance of being found by their customers online, ratherthan chasing them down manually.
Most motor dealers would acknowledge the fact that the traditional 'hard sell' method is rapidly losing its effect as a successful technique for selling cars. The impact the internet has had in shifting trends and habits in car buying is incontestable. It is therefore essential that car dealers evolve with the times and start to be more creative and tactical with the way they market themselves online. Research undertaken by Facebook IQ, consisting of a three-pronged study, investigates how car buyers now shop.
They carried out a survey that included 1,500 people in the UK who had either bought a new car in the last 12 months or were looking to buy. They also looked at historical laptop and mobile data for in-market shoppers and buyers in the UK.
The 2018 car buying journey
Car buyers settle on a brand or model prior to visiting the dealership
The most significant finding was that the process of buying a new car was a multi-screen and social activity, and that actually, brand and features was a higher determining factor when it comes to choosing a car than price; something car dealers should really bear in mind.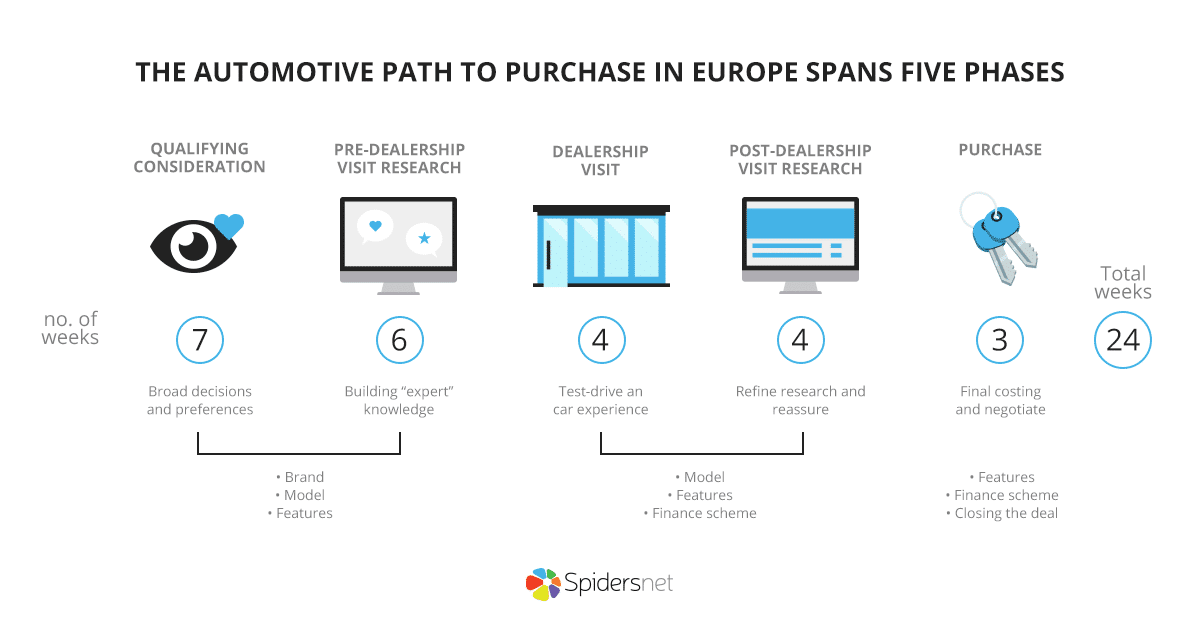 What are the influencing factors for car purchase decision
Car buyers are less reliant on dealers than they used to be
Historically, car buyers would begin their search for a car at a dealership, however, now shoppers normally settle for a brand, make, or model before visiting a dealership. The majority of vehicle shoppers admitted to using their smartphones and laptops for inspiration by scrolling through visual content related to cars and other consumers. This finding is incredibly useful to car dealers as it highlights the importance of their digital marketing efforts to draw in new customers.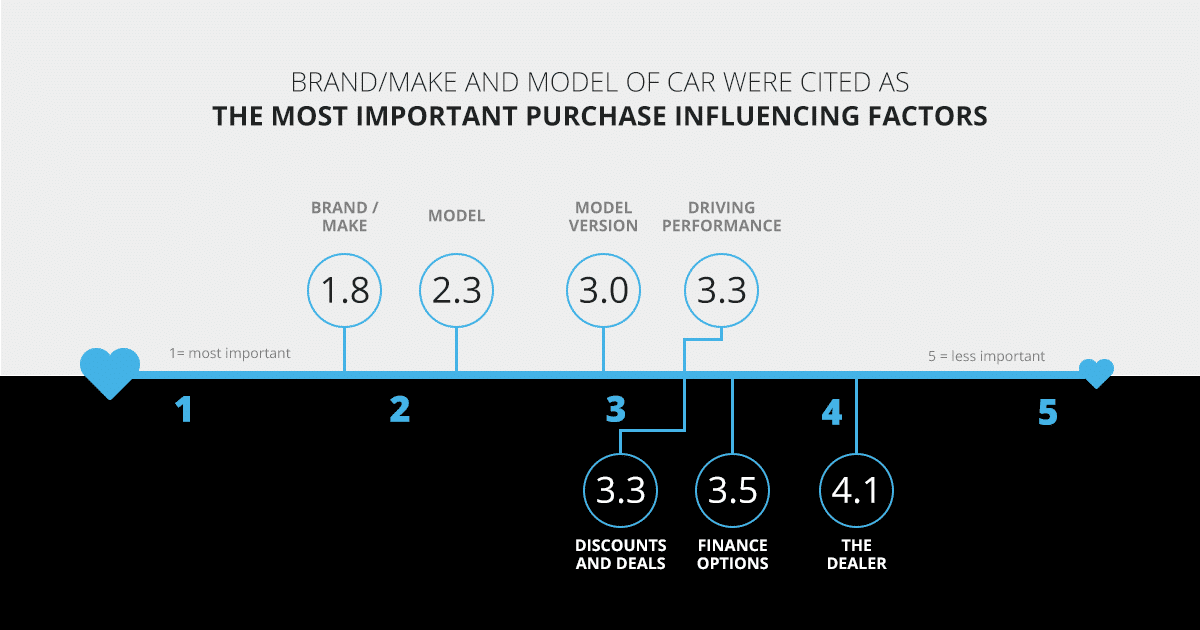 What can car dealers take from this?
Ensure you have a website is ready to be found!
Firstly, you need a great first impression. And secondly, you need your website to be visible online in comparison to your competitors'. Remember that customers need to find you, you're not finding them!
Acknowledging this pattern is crucial. If you're aware that brand and model are the most influencing factors, it's essential that you are ranking on search results pages for brand and model related key terms. The importance of this cannot be underestimated.. You can ensure this by signing up to a website provider that prioritises search engine optimisation (SEO) when building their customers' websites.
How Spidersnet can drive your dealership forward by acknowledging these factors
Search Engine Optimised
Spidersnet websites have been completely built with search engines in mind. Our SEO team ensure your website is fully equipt to rank highly on Google, making your cars easier to find! Not only that, but all of your stock will be fed to a number of leading car classifieds websites and digital marketplaces, to increase their chances of being seen by potential buyers.
Great first impression
As the first diagram shows, buyers spend 6-7 weeks considering options online and carrying out pre-dealership research. Spidersnet websites are mobile optimised and user-friendly, and they also utilise clean, clear design making them easy to use, ensuring that you give off a great first impression to potential customers. Spidersnet websites are fully equipped with finance integration and running cost calculators, ensuring buyers are provided with an array of different options to help them choose the right car for them. We do all we can to help you facilitate the sale of your stock by ensuring your site is 100% geared towards this endeavor.
We also make use of social integration and online reviews allowing to reach a wide variety of new customers, with a positive message about the services you offer.