Having an online presence is so important to ensuring dealers thrive in this day and age. This is why we have created our Learning Hub, which is chocked full of tips and advice on how to boost your dealership's digital marketing efforts.
We've mentioned the importance of Google My Business numerous times in our search engine optimisation articles, so we thought it was about time we gave you a detailed run through of why it is so important to your dealership, and how to set up your dealership's Google My Business listing – if you don't have one already.
What is Google My Business?
Google My Business is a free tool set up by search engine giant Google (clue's in the name), which helps your business appear within search results and maps. Your Google My Business listing is a great tool for letting potential customers know your opening times, your location, your contact details, and even read reviews left by past customers.
Why is it so important?
We all know that Google can now answer almost any question we ask it, including 'where's the nearest car dealer to me?', 'fiat dealers near me?', or 'where's the nearest repair garage to me?', and this is what makes Google My Business SO important to your dealership. It's vital to the health of your business that you appear in these local searches, meaning people can easily find you without having to directly search the web for your business.
How to set up your Google My Business listing
The first thing that's important to mention is that you need to have a Google account to be able to create a Google My Business listing. If you don't, you'll need to get one created! Just click on this link to set one up – it's super easy!
1 – GET STARTED
Once you've set up your Google account (or if you already had one) you can then create your Google My Business listing.
To get started, go to google.com/business and press the big green 'Start now' button in the top right-hand corner.
2 – BUSINESS NAME
First of all, you need to write the name of your dealership in the box provided. Once you've done this, and made sure it's correct, click 'Next'.
3 – ADD YOUR LOCATION
You will then be asked to input where you are located (make sure it matches the address you have on your website).
This is so you will appear on Google Maps for searches in your area, allowing potential customers to find you with ease.
If you work from home and you would rather hide your address, you are able to do this by selecting the option 'I deliver good and services to my customers', this will bring up the option to 'Hide my address'.
4 – CONFIRM LOCATION
You will then be asked to confirm your location on a map.
To do this, simply drag and drop the marker to the exact spot where your dealership is located.
5 – SELECT YOUR CATEGORY
It's now time to pick a category that best suits your business from a selection provided by Google.
You may wish to select 'Car dealer', 'Used car dealership', or 'Repair garage', though there are some other options that may be nicely suited to the services you offer.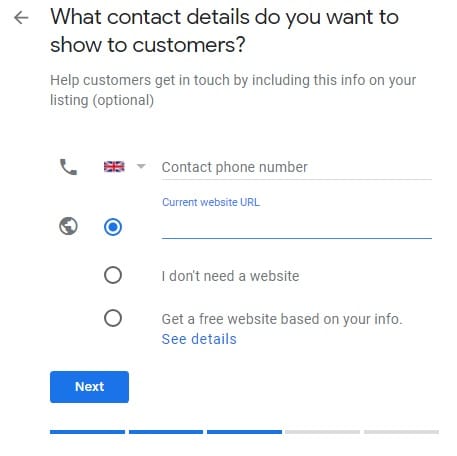 6 – CONTACT DETAILS
Next, you will be asked for your contact details. This is how potential new customers will be able to get in contact with you from viewing your Google My Business listing.
It is vital that all of the details you add here are the same as the ones on your website. Therefore, if you have updated your address or your phone number, but haven't changed it on your website, then you must go back and do so. Read our Guide to Citations to see just how important it is that your details are consistent across the web.
7 – VERIFICATION TIME
The next step is verification, the main way to do this is to have a postcard sent in the post – this is to make sure you have used the correct address. Google state that it can take up to 4 days to arrive, and once it does it gives you detailed instructions of how to verify your new listing.
However, sometimes Google will let you verify by phone. Google will send a text directly to your phone there and then to confirm and verify your business.
8 – MORE DETAILS
Whilst you're waiting for your verification, you're able to add further details to your listing, such as opening times, services and a business description. The more information you provide the better!
Just make sure that your details are consistent with your your information is presented on your website and in any other places around the web.
9 – FINALLY, ADD YOUR IMAGES
The final step to make sure you have the perfect Google My Business listing is to add pictures.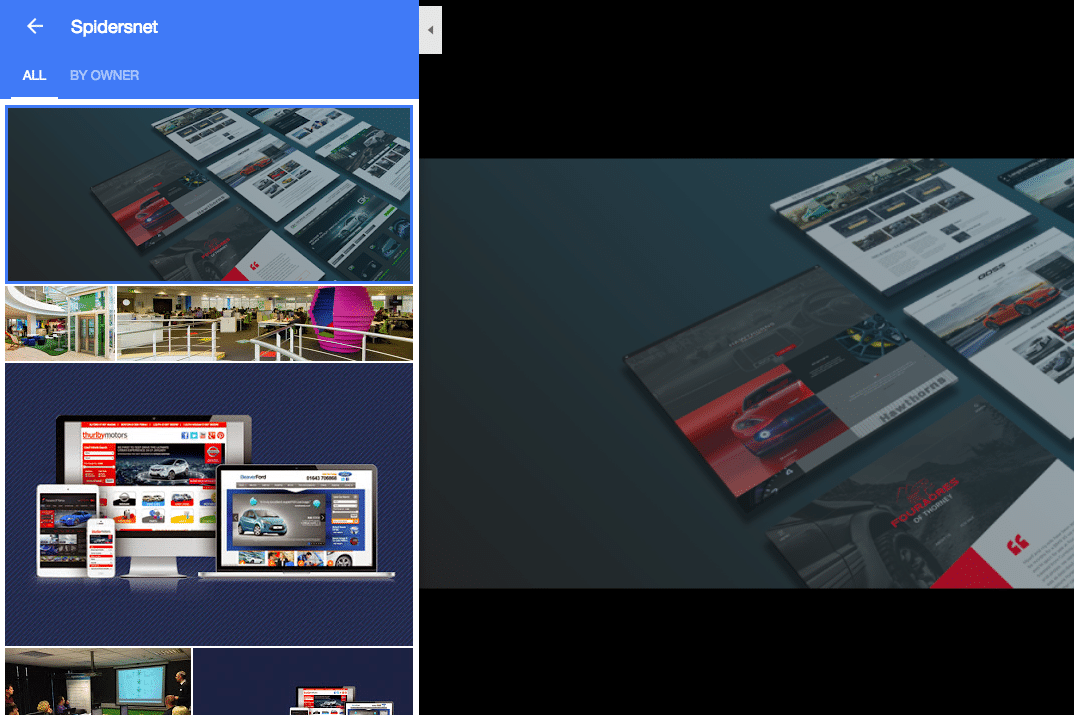 "Businesses with photos see 35% more click through to their website and 42% high requests for driving directions on Google Maps."
To make the most of your use of photos, make sure you follow these size guidelines:
Profile image: 250 x 250 pixels (minimum 120 x 120; maximum 5200 x 5300)
Cover photo – 1080 x 608 pixels (minimum 480 x 270; maximum 2120 x 1192)
Shared images – 497 x 737 pixels (minimum width 497; maximum 2048 x 2048)
They need to be JPG or PNG format, and MUST accurately represent your business.
What happens when it's all set up?
Once your listing has been verified make sure you keep the details up-to-date at all times. If any of your dealership's details change, make sure you update your listing.
It's also a great idea to encourage your customers to leave you reviews, allowing new customers to see how great you are.
Google My Business is so important to the longevity of your business in the internet age. These days consumers require information, and they want it quickly, which is exactly what your listing offers. When deciding where to rank your business in local searches, the engine takes a fully up-to-date, detailed Google My Business listing very seriously.
It's really easy to set up and manage, but will bring a whole host of benefits which will impact positively on your SEO and your bottom line!