Our Spidersnet Learning Hub is full of marketing advice as well as insights into customer care. We have guides on social media for car dealers, search engine optimisation and much more. However, today we are focusing on what we do best, automotive web design. That's right, this is the first in a number of guides to car dealer websites and what they require.
If you run a car dealership then a website is essential. But that isn't enough. You also need to ensure that your website is well equipped to help you sell cars. You can get all the traffic to the site with your marketing campaigns, however, if your website is not up to task then you will merely put potential customers off choosing your dealership next time they need a car.
This guide is a list of all of the essential aspects that all car dealers websites should have.
Responsive web design
In this day and age, there are very few things as important as responsive design. Most people use their mobiles to browse the web, so it's crucial that your website is able to function perfectly on a smartphone or tablet. A website designed responsively means your site will resize depending on what size screen the user is viewing your site on, and it'll appear the same if they view on their phone, and then a tablet and then their desktop.
This shift in consumer behaviour has meant that Google now actively punish websites that are not 100% responsive and, as we all know, 80% of automotive searches start with Google. Not having a responsive website could have a detrimental effect on your bottom line.
Relevant information
As well as knowing that your website works effectively on any device, you also want to ensure that it features all of your dealership's relevant information. When a potential customer is browsing your site they should have easy access to all of your contact details so they know how to get hold of you if they need to. Below is a list of the crucial bits of information that should be included on your website:
1. Contact number
We would always recommend having your contact phone number in the header of your website, this means it will appear on every page. Consumers these days are almost expecting to see your contact number here, so to make it easy for them.
2. Location and address
Having your full address on your website will ensure that any potential customers are able to find where you are. Making it as easy as possible to pop along for a visit should they see a car that they like on your website – imagine missing a sales opportunity like that. We ensure that our dealers have their full address displayed on their website both on a contact page as well as on every page in the website footer. It's also a very good idea to ensure that you have a map showing exactly where your dealership is.
3. Opening hours
Another important piece of information to include on your dealership's website are your opening hours. Users today expect this kind of information as standard for a bricks and mortar business. Including your opening hours means they can know exactly when they can come and visit you.
4. Email address or contact form
Having all of your relevant information on your website is not just good for your users, but it can also have a positive SEO impact on your website. Online citations, your dealerships name, address and phone number, are a great way to boost your site's rankings in local search results pages. In order to ensure that your citations work effectively, it is vital that your correct contact details are listed on your website. Citations are very useful and easy to implement, find out more about business citations here.
Landing pages
Relevant landing pages are another important aspect of a car dealer website. By a landing page we mean a page that a user lands on after performing a search, such as 'used ford cars'. This is even more vital for dealers who are selling a range of different vehicles. If you have all of your stock listed on one page then this can be a pain for your users to scroll through, so having them split by manufacturer or category can make your website more user-friendly. User experience is vital, and ensuring that your potential customers are able to view the stock they're after, with ease, makes your business feel more professional. You can also have landing pages for new and used stock, separately, further allowing your users to search more specifically for what they're in need of.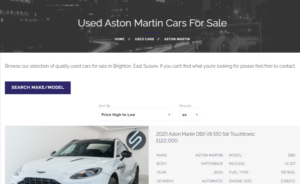 Surprise, surprise, there are some fantastic SEO benefits to having specific landing pages. In fact, the SEO benefits are actually as important (if not more) than the user benefits. Let's take the Aston Martin example as seen in the above picture. If you are selling a number of cars made by this manufacturer, you'll want to rank highly for local searches for this make of car. For example, if you're based in Brighton then you'll want to rank for the following search terms (as well as other similar variants of these search terms):
'Aston Martins for Sale Brighton'
'Used Aston Martin cars for Sale Brighton'
If you have landing pages for all of the manufacturers you sell and they are properly optimised, then you are drastically increasing your chances of ranking high on search engines. We see so many dealerships making these two common mistakes:
Missing the right landing pages resulting in them missing out on potential customers using the specific search terms listed above. This drives us crazy as it is a huge mistake and is easily solved.
Having the right landing pages with the wrong title tags, resulting on missing out on traffic from search engines. We have written an entire guide to meta tags, which goes into much more detail, however, in brief, if you are selling used Fords in Sussex and have a landing page, then the title tag of this landing page should be 'Used Fords Cars for Sale Sussex'. It should ALWAYS include the manufacturer, the fact that the car is new or used and vitally, the location as well.
Vehicle enquiry forms
This may sound a bit obvious, but it's important that you have enquiry forms on your ad details pages. If someone likes the look of a car on your website, it should be as easy as possible for them to contact you. Some may give you a call, but others will find it easier to fill in an enquiry form.
This helps people get in touch to declare their interest in a specific car you have and it allows them to ask you questions if they need anything cleared up before popping down to your showroom to take a look.
Plenty of images
When browsing cars online, consumers want to see plenty of pictures. Don't just upload one image of the car on your forecourt, make sure you're taking a range of pictures of all aspects of the car. You will want one of the front, one of the back, one of each side and a couple of other angles too. You'll also want to take a number of close ups and pictures of the interior.
We see far too many car adverts online that have just one single photograph, and it frustrates us. That's why, here at Spidersnet our platform allows our dealers to upload an unlimited number of images!
Automated stock feeds
Automated stock feeds aren't necessarily useful for customers browsing your website, but they do make your life much easier. If you advertise your stock on third party websites, such as Autotrader, Ebay, Motors.co.uk etc, then an automated stock feed will post your cars to these sites for you, saving you plenty of time and effort.
Here at Spidersnet, we appreciate that plenty of car dealers have arrangements with third party sites and that is why we can feed stock to a huge range of these for a small added cost. If you are currently uploading all of your stock to all of these different sites separately, one car at a time, then these automatic stock feeds will revolutionise the way you advertise your cars online.
Find out more about Spidersnet websites here or contact us on 01273 837563.