A Google Business Profile (formerly known as a Google My Business listing) allows your motor dealership to gain more visibility on Google. By setting up a Google Business Profile you can manage how your dealership appears across Google products, like Maps and search results pages.
In this blog post we outline what a Business Profile is, explain how you can set up and claim your profile, and discuss the benefits of having a profile and how to use it to your advantage.
What is a Google Business Profile?
A Google Business Profile is a free business listing from Google, which helps your business appear within search results and the local map pack (pictured below). It can help your potential customers find where your dealership is located and they can also find out other useful information, such as your opening times and contact details. They can even see reviews left by previous customers.



By having a Business Profile set up you're able to put your dealership in front of a number of people who are actively searching for vehicle in your area. Not only this, but a comprehensively filled-out Google Business Profile will make it easier for customers to find you and will also add legitimacy to your brand.
How do people find your Google Business Profile?
When people are searching for motor dealerships or vehicles in your area, Google will display a number of Business Profiles at the top of the search results. This is called the local map pack, which you can see an example of below: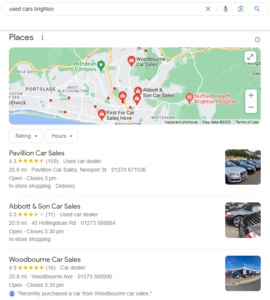 When a user clicks on one of these businesses, their Business Profile appears on the right hand side of the screen. You can see an example of this here: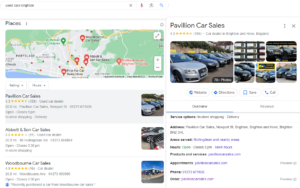 From this profile the user can directly contact the dealership in question and can also click a link to go directly to their website. They can also see, at a glance, the dealership's opening times, map location, reviews, and images.
Benefits of a Google Business Profile
You know what a Google Business Profile is now, but why is it so important that you, as a dealership, should have one? Below are some of the key benefits of having a Google Business Profile for your automotive dealership.
You're Google Verified!
According to Google, businesses that are verified on Google are twice as likely to be considered reputable by customers! This means that just by having a verified profile on Google, you will appear more professional and trustworthy to potential customers.
Get discovered on Google for free
Whilst investing in pay per click (PPC) advertising and search engine optimisation (SEO) are both brilliant ways to improve your visibility on search engines, a Google Business Profile is a surefire way to place your business in front of high-value local customers.
The listing can boost your position in both the local map pack and local search results, meaning it's more likely that potential customers will come across your dealership when looking for the services you offer in your catchment area. And, to top it all off, a Google Business Profile is completely free to set up!
64% of consumers use Google Business Profiles to find contact details
The statistics show that consumers constantly make use of Business Profiles, with 64% of them using these profiles to find out contact details for local businesses. What's more, a whopping 94% of calls to local businesses come through Google Business Profiles on weekdays.
Statistics also show that the average business appears in over 1,000 searches per month on Google.
84% of customer searches for businesses are discovery searches
Only 16% of customer searches for businesses are direct searches. This means that a huge 84% of customers are using discovery searches with no specific business in mind. By this, we mean generic searches not using a dealership's name, such as 'used cars brighton' or 'used nissan brighton'.
This means that these people are open to discovering new dealerships. And, by making use of a well-optimised Google Business Profile, you're able to put yourselves in front of these open-minded potential customers who are actively on the hunt for your specific services.
What's more, 'Near Me' searches have increased by over 200% in the last two years. This shows how many people are using Google to look for businesses in their area, which further highlights the benefit of having a nicely populated Google Business Profile.
Gain valuable insights
Your Google Business Profile will also allow you to make use of Google's Insights. This means you can gain a greater understanding of how well your listing is performing and how your potential customers are interacting with your business online.
These insights include:
Views: You can see how many times your Google Business Profile was viewed by people online in a set period of time.
Search queries: You can get an idea of which keyword searches people are using to discover your dealership. This can be extremely useful in helping you improve your SEO strategy.
Audience breakdown: Google can also offer you the chance to understand the age demographic, gender, and location of the people who are discovering your dealership on Google.
Website clicks: You can also see how many people are clicking through to your dealership's website from your Google Business Profile.
How to set up your Google Business Profile
Before you crack on with building your profile you need to have a Google account to be able to create your Google Business Profile. So if you don't have one yet, now is the time to create one.
1 – GET STARTED
Once you've set up your Google account (or if you already had one) you can then create your Google Business Profile. To get started, go to google.com/business/ and click the 'Manage now' button on the page.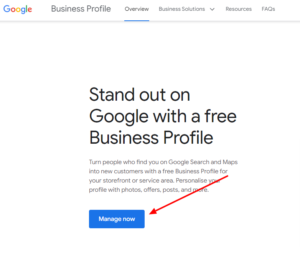 2 – BUSINESS NAME
First of all, you need to write the name of your dealership in the box provided. Make sure the name you enter reflects the actual name of your business, then click 'Continue'. Your dealerships name may pop up as you type it in.
3 – SELECT YOUR CATEGORY
It's now time to pick a category that best suits your business from a selection provided by Google. Some suggestions for you are 'Car dealer', 'Used car dealership', or 'Repair garage', though there are some other options that may be nicely suited to the services you offer.
4 – ADD YOUR ADDRESS
Next step is to add your address. It's important to make sure it matches the address you have on your website. This is so you will appear on Google Maps for searches in your area, allowing potential customers to find you with ease.
5 – CONTACT DETAILS
Next, you will be asked for your contact details. This is how potential new customers will be able to get in contact with you from viewing your Google Business Profile. It is vital that all of the details you add here are the same as the ones on your website. Therefore, if you have updated your address or your phone number, but haven't changed it on your website, then you must go back and do so.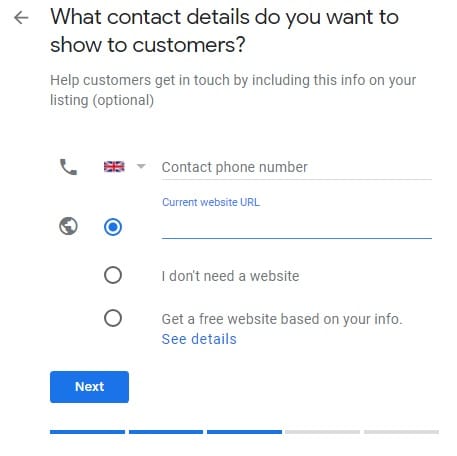 6 – VERIFY YOUR DEALERSHIP
The next step is verification, the main way to do this is to have a postcard sent to your dealership's address. Google states that it can take up to 4 days to arrive, and once it does it gives you detailed instructions of how to verify your new listing. However, sometimes Google will let you verify by phone. Google will send a text directly to your phone there and then to confirm and verify your business.
7 – MORE DETAILS
Whilst you're waiting for your verification, you're able to add further details to your listing, such as opening times, services and a business description. The more information you provide the better. Just make sure that your details are consistent with the information on your website and in any other places around the web.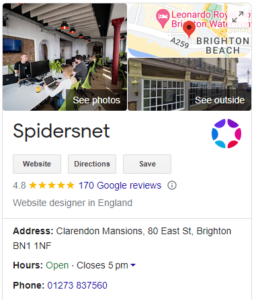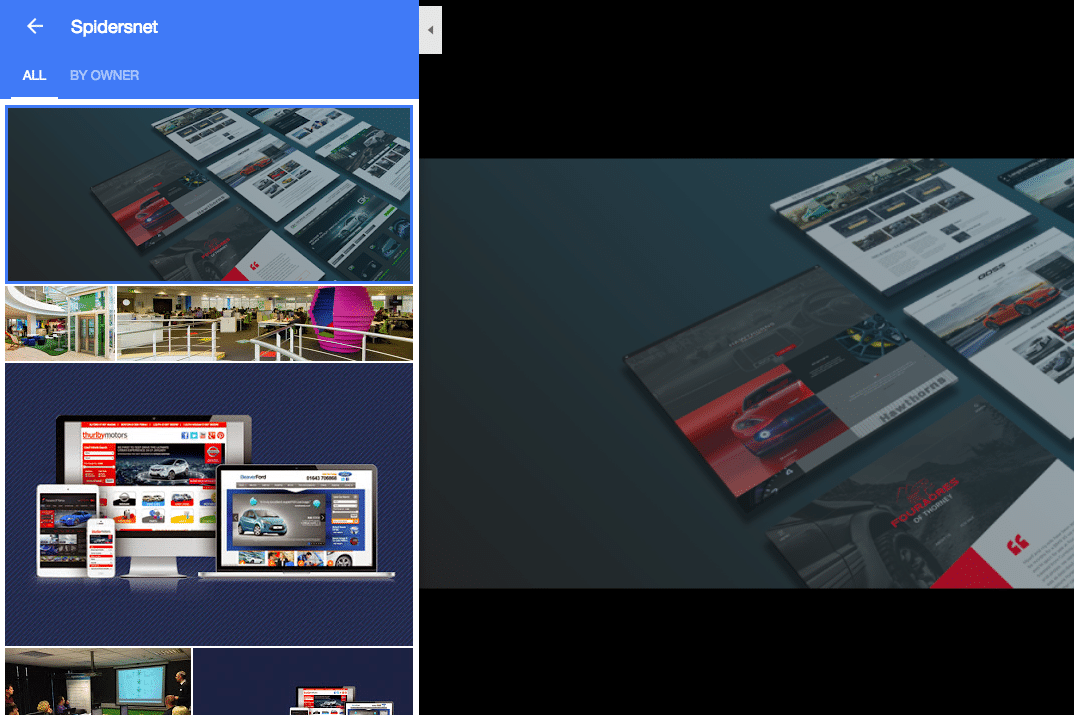 8 – FINALLY, ADD YOUR IMAGES
The final step to make sure you have the perfect Google Business Profile is to add pictures.
"Businesses with photos see 35% more click through to their website and 42% high requests for driving directions on Google Maps."
To make the most of your use of photos, make sure you follow these size guidelines:
Profile image: 250 x 250 pixels (minimum 120 x 120; maximum 5200 x 5300)
Cover photo – 1080 x 608 pixels (minimum 480 x 270; maximum 2120 x 1192)
Shared images – 497 x 737 pixels (minimum width 497; maximum 2048 x 2048)
They need to be JPG or PNG format, and MUST accurately represent your business.
What happens when it's all set up?
Once your listing has been verified make sure you keep the details up-to-date at all times. If any of your dealership's details change, make sure you update your listing.
It's also a great idea to encourage your customers to leave you reviews, allowing new customers to see how great you are.
How to claim your Google Business Profile
In some cases, your Google Business Profile may already be set up on Google, and if this is the case, you may need to 'claim' this profile so you can begin to make changes, add information, and interact with customers. This may occur if you have taken over an existing business, or an ex-employee set up your Google Business Profile and you need to claim ownership in order to make changes to your profile.
If you need to claim your profile, you'll want to follow these steps.
Go to Google and search for your dealership's name.
When you're Google Business Profile appears on the right hand side click 'Own this business?'.
The following pop-up will provide a snippet of the email address that currently manages the Google Business Profile. If you do not recognise or do not have access to that email, you can follow Google's Account Recovery help guide to regain ownership.
If you do recognise it, or it belongs to someone you are in contact with you can click the 'Request Access' button which will notify the current holder that you wish to claim back the Google Business Profile listing.
Once you're verified
Once you have either set up or claimed your Google Business Profile and it has been verified, you can update and add to your profile at any time. You will also be able to connect with your customers through your profile and respond to reviews.
In conclusion…
Google Business Profile is so important to the longevity of your business. Now consumers want information quickly, which is exactly what your GBP offers. When deciding where to rank your business in local searches, the engine takes a fully up-to-date, detailed Google Business Profile very seriously. It's really easy to set up and manage, but will bring a whole host of benefits which will impact positively on your SEO and your bottom line!