As you may be aware, here at Spidersnet we are doing all we can to ensure that our dealers are as clued up as can be in the world of digital marketing. That is why we are creating a huge range of articles and guides in our Spidersnet Learning Hub.
View more car dealer marketing advice
Today, we are focusing on the topic of local SEO (search engine optimisation). If you have no idea about search engine optimisation then we would advise you to take a step back and read our very first guide about the basics of SEO. It lays out the concept of SEO in a nice and simple manner to help you get up to speed.
However, if you consider yourself semi-clued up in the field of search engine optimisation, it is likely you will be aware (or at least have heard) of local SEO. If you are sitting there thinking, 'I literally have no idea what local SEO is', the chances are you are already utilising it on a regular basis as a consumer without even knowing it.
The following guide will aim to break down in detail exactly what Local SEO is, and how it differs from general (traditional) SEO. As well as some handy advice on what you need to do to ensure you stand the best possible chance of being found online.
What is Local SEO?
In simple terms local SEO is the process of optimising a website so that it appears in the local specific section of a search engine's results pages. SERPs.com defines this in more detail as:
"Local SEO is a branch of small business SEO practises that focus on positioning companies for searches based on the user's current or intended location."
– SERPs.com
Local VS General Search
With local SEO you are aiming to get your site ranking for a search within a specific area and with general SEO you are effectively targeting a national audience, by getting a site to appear in Google from anywhere that search is conducted. National targeting is great, however, small businesses will find it difficult to compete in Google search results against the big classified sites such as AutoTrader and Gumtree. What local search does, is allows your website to rank for keywords that you otherwise will find it difficult to rank organically for. Let's look at an example. Let's say I'm looking to buy a car in Brighton: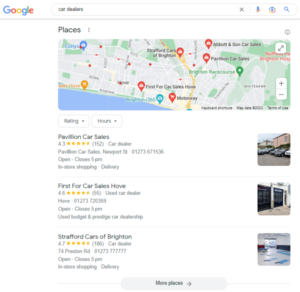 As you can see, I have entered the search term, 'car dealers'. Google knows that I am searching from Brighton, and therefore returns local results that are highly relevant to me. With increased relevancy comes an increased likelihood a user will click on one of these local results. For car dealers this is big news, as it means you are now able to compete with larger, national websites for clicks on highly searched competitive keywords (such as 'car dealers' in the above example). It is worth pointing out that local SEO can refer to both a user's current, or intended location. Meaning local SEO can work either with or without a location in the search term. In the above example for instance, I am a Brighton based user looking for a car. However, let's say I was planning a weekend trip to Bournemouth and was looking for a hotel. I would need to include 'Bournemouth' in my search term to generate local results. This means your site can still appear in local results for people who are searching outside of your area.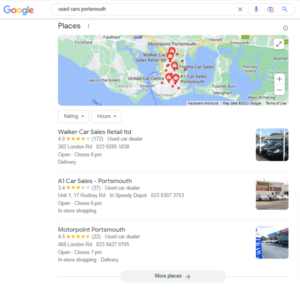 It's a similar story when it comes to mobile
As we can see, we do not even need to enter a location term alongside our search, yet Google knows I am searching from Brighton. As a result it returns local car dealerships in my area, as these are the most relevant results for me as a user.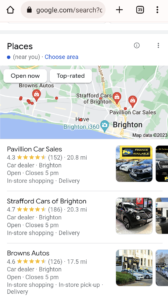 Mobile ranking is more important than ever, with more people now searching for information using mobile devices than on desktop. As a result of this, we need to not only to ensure our websites are mobile friendly, but that we are also optimised for local SEO. So long as we are optimised for local SEO, our websites and stock are visible to customers on the move.
Did you know? (From Google Databoard)
77% of mobile searches are near a PC
94% of mobile users have searched for local info, and 84% have taken action as a result.
65% of people visited the business they looked up
Local or General SEO?
Whilst talking to dealers at workshops and seminars, one of the common misconceptions we pick up on is that it must be either one or the other. This is not the case. Having a website that contains high quality unique content, allows search engines to crawl efficiently, targets keywords in your meta tags and gains links from external sites (to name but a few) are just some of the foundations that a site eeds to be successful in search engines. Local SEO should work in tandem with your traditional SEO strategy. As well as all the great stuff you should be doing from a general SEO point of view, there are additional ranking signals you must qualify for. This is the most effective way for any small business to maximise its relationship with Google and lead generation.
"Local SEO should go hand in hand with your SEO strategy for car dealers. Alongside the general optimisation points you can be doing on and off site from a general point of view, there are additional things you can do to boost your local SEO rankings."
– Hannah Wooster – SEO Specialist, Spidersnet
How to Boost Your Local SEO
There is no quick fix when it comes to ranking well in local SEO listings, otherwise everyone would be doing it. However, follow the guidelines below and you stand a great chance of capturing a proportion of this highly engaged, highly targeted traffic.
1. Google Business Profile
The first and most crucial step on the road to local SEO success is to ensure you have an identity with Google. This is done via a Google Business Profile (formerly known as Google My Business) page. Having a Google Business Profile is essential to appear in the Google local map pack (pictured below) and in the local results of Google searches.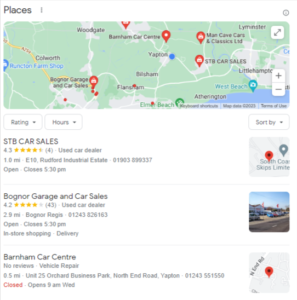 Once you have signed up and filled in your basic details, such as dealership name, address and phone number (NAP), you will be sent a postcard from Google, or you can opt to receive your verification code via phone. You'll receive a PIN number on a postcard or phone call, whichever you opt for, which you use to verify your business. Once you are verified you will begin appearing in the local results.
Make sure you complete your Google Business Profile with as much information about your dealership as possible. Include your opening hours, products you stock and add images regularly. Google themselves announced at Lets Put Our Cities on the Map that:
Four out of five people use search engines to find local information
Consumers are 38% more likely to visit and 29% more likely to consider purchasing from businesses with complete listings
Google will provide you a progress bar you can use to keep track on how complete your profile is. Be sure to be as thorough as possible in all sections – the company introduction section, for example. You will also want to ensure that you use a photo that represents your business in the best possible way. It is unlikely there will be another image on the internet that will be seen by more potential customers. Similarly, you are required to classify your business under categories, 'Used Car Dealer' etc. These have a significant bearing on your success. Make sure you take care and associate your business with the most relevant categories.
As mentioned previously, you will of course need to add your name, address and phone number (NAP) to the page. It is absolutely vital that this matches your NAP details from your website. Sounds simple, but you would be surprised. When Googlebot crawls the web, it is essential it is able to make the association between your website and your physical location. Finding discrepancies in your address between your Google Business Profile and your website will cause unwarranted confusion.
2. Reviews
Reviews are one of the more important ranking factors in local SEO, for several reasons. It's a well known fact that before making a purchase consumers will spend hours doing online research. Not only will this cover varying manufacturers, models, prices and deals, but also to find a trusted dealer who will make them feel safe in parting with their well earned cash. One of the best ways to generate this sense of brand trust online is to have quality reviews from previous customers. When we consider the amount of money a customer would be parting with it comes as little surprise that the impartial advice of other buyers will often play a part in the customer's ultimate purchasing decision.
However, aside from the obvious benefits, these reviews also play a massive part in your potential to win at Local SEO. If Google see's positive reviews of your business when crawling the web, it is forced to stand up and take notice. Google's ultimate aim is to return the best quality results for its users, based on their query. If a number of these same users are recommending one business/dealer by leaving positive reviews, of course Google will be forced to take this into account when ranking this site.
Whilst all positive reviews will have benefit for your business wherever they are left, reviews left on your Google Business Profile are by far the most valuable. We often see testimonial pages on websites, which are likely to positively impact buyers purchasing decisions, but if these reviews were located on your Google Business Profile they would carry a lot more weight. Whether you sell a car, carry out an MOT or change a tyre you need to encourage the customer to leave you a review on Google.
3. Citations
Citations are an important ranking factor when it comes to local SEO. But what is a citation? Well, essentially a citation is any online mention of your dealership along with its address and phone number. These tend to be located on online listing pages, which is where you will want to focus a lot of your efforts.
Similar to link building in general SEO, Google uses the quality and quantity of these to decipher the authority of your business. However, citations, unlike links, provide SEO value without needing to have a physical link to your website from another. They are effectively any textual references to your business NAP found online.
The most important point in regards to citation building is to ensure consistency in your NAP across all references across the web. I.e The NAP on your Google Business Profile must match that on your website, and any other citations you make. Whenever search engine spiders crawl websites and find your business name, address and phone number, it is providing further evidence of the association between your online presence and your bricks and mortar address. Popular ways of building citations include directories, internet yellow pages (IYPs), social and forum profiles etc.
Here are some popular directories to get you started with your citation building:
www.yell.com
www.thomsonlocal.com
www.hotfrog.co.uk
4. Site Content
We know that in regards to general SEO, the quality of a website's content is one of the biggest barometers of its quality. But how can the content on a website impact its ability to rank well in Local SEO? One of the most common pitfalls in regards to content is having multiple pages with an insufficient amount of text on the page. Common offending pages often include static pages, such as vehicle valuations, warranty, servicing etc. Every page on your site needs to provide real value both to users and search engines. Having one line of text and a contact form does not warrant a good experience for the user. Similarly, on your homepage you need to ensure you have a healthy company description. If you cannot shout about your own company, why should a customer (or Google)? Consider the following:
Who are you?
Where are you located?
Do you have a specialism?
What's the company history?
Be sure you are making reference to your town and county regularly in your content. This will further help create this association between your online brand and your physical location. However, it is vitally important when doing so that you keep your content sounding natural. Never overuse keywords or locations. Read some of the content on your site, if it sounds unnatural it most likely is. If this is the case you will need to re-write the content, otherwise you risk the wrath of Google. As well as the content of the site itself, it's also recommended to have your town and county in the page title of every page. Where is the page title of a web page? See below:

This is the first ranking element Google encounters when it visits a web page, and is arguably still one of the most critical on page ranking factors in regards to general SEO.
Get our top content tips in this guide.
In summary
Get a Google Business Profile (make sure the address matches that on your website)
Get citations (make sure address matches the one on your Google Business Profile)
Get reviews
Think locally when creating content
There is no one quick solution or easy fix to get your business found online for local searches. Much like with general SEO, it can be a time consuming process, with no guarantees at the end of it. However, follow the above guidelines and you stand a great chance at local SEO success.
We know that Google looks at a number of factors from different sources across the web to grade your website. Google Business Profile, review sites, citation sources, your website and even social. But the key thing is, if you are providing a great service to your customers, with a little nudge they should be receptive to leaving you reviews. Likewise the other elements, whilst may take up some of your valuable time, the tangible benefits of which should be enough to persuade you this is something worth dedicating time to.
Interested in achieving local SEO success, but don't have the time to invest? Speak to us today to find out how we can help your dealership with our websites and SEO services, call us now on 01273 837563.